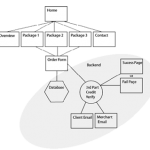 Whether you're setting up your first business website or redesigning an existing site, a site plan will help you create a website that meets your needs and the needs of your customers. By taking the time at the beginning to draft a site plan, you can avoid mistakes while at the same time making sure you have the content needed to get your site started properly.
What should a site plan include?
At a minimum:
Purpose
What is the purpose of your website? How is it going to fulfill that purpose better than any other site on the Internet?




Goals
Targeted goals can help you take a poor or mediocre site and make it great. Once you know and outline the goals of your site, you can plan around them.




Customers
Who are you targeting with your website? Try to be as specific as you can regarding your target audience. Include details like: age, hobbies, income, job title(s), and so on. You might envision different people coming to different parts of your site, which is OK.  If your site is already live, you should include data on the audience that you currently have.




Content
What will be on the site? Will the content be changed regularly? Will you focus on selling products with product pages or on providing information through articles? Is your content going to be mostly text or images or multimedia? Do you have the content already created or do you still need to obtain it and organize it?




Design
What colors and layout will you use? Remember that different demographics have different preferences. As an example, if you're planning a website for cutting edge designers, it will have a different look than one designed for stay-at-home moms. In addition to colors and layout, you need to consider things like graphic elements, fonts, and typography. The more you plan ahead of time, the easier the design phase will be.




Timeline
Once you have the rest of the pieces of the plan together, you should decide on a schedule. Don't forget to include time for testing, revision, and user feedback.


Write Down Your Plan
Always incorporate extra time – nothing ever goes exactly as planned!  Allow for brainstorming sessions, and allow extra time for user-feedback.  While feedback is important, remember too that too many cooks in the kitchen will quickly ruin a meal – in other words, be careful and selective about using feedback and stick to YOUR ideals and goals.
Once you have everything in place, you can seek out a web designer knowing that you have done your homework up front – the site coding will go much smoother for you and your designer from there!