Focused, bite-sized content
Writing for a web site is by nature very different from many other forms of writing like newspapers, magazines or scholastic papers. Web messages should be highly focused, and delivered in bite-size portions. The web surfer's attention span can be very short indeed. No passive absorbers of information, these people are in full control of how, when, and in what order messages are presented—or if information is presented at all. Where a paragraph might suffice elsewhere, a single phrase often says more on the web.
Layered for skimming
Every viewer arrives at your site by some means of proactive searching, with all the content in the world at their fingertips and little time to see it all. They are in skim mode. They have either followed links that intrigued their interest, or done a direct browser search. They continue to navigate by interest on your site. If you do not deliver quickly, your web audience moves on. For that reason it is important to layer your content for quick skimming using headlines, subheads and clear graphics.
Non-linear storytelling
A web story is not a brochure story. Web visitors rarely read web content in any kind of linear or chronological fashion, and may never get to your history, philosophy, or about page at all. Therefore each new page of the site should carry through a clear and consistent sense of your company and do it quickly—while still retaining its clear and narrow focus.
Intuitive navigation
Navigation can make or break a site. To create a smart navigation system, you have to first think like the audience. How might different types of customers get to your site? What is the first thing they want to know that is the "point of entry" into the product or service category? How many different ways might there be to gather and validate site information? Not everyone tackles information gathering in the same way. The secret is to create a simple and clear navigation system that allows for intuitive, non-linear navigation.
The right tone
Yes it is possible to accomplish two seemingly conflicting goals: focus on narrow topics, while simultaneously delivering an overall sense of your business. One excellent way is through the use of your writing "tone." Writing can be informal, friendly, authoritative, helpful: just like a graphic theme, there are many ways copy tone can help deliver what is unique about your business.
Not a writer?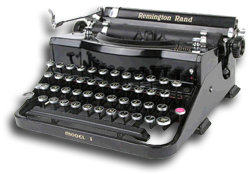 While not every business owner wants to write web copy, each and every one of them knows their business or service best. Whenever Hansen Web Design is asked to craft web copy, we first get to know your business, its unique aspects, and the mindset of its target audience. We have over 20 years of experience in crafting corporate identity, honing and delivering marketing messages, understanding various target audience mindsets and writing relevant and engaging copy. In short, words that speak volumes.