Actual Progress on Cornelia!
August 22nd, 2009
Written by:
John
Published on August 22nd, 2009 @ 12:25:57 pm , using 223 words, 815 views
Today I took a little time out (I'm actually supposed to be working on the garage, but couldn't help myself) and worked on Cornelia a bit.  I removed the original rubber floor mat and seat frame along with the rubber surrounding the pedals.   Then I sprayed things down with a little WD-40 for protection and wiped up the excess.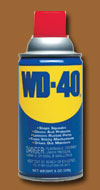 I am very happy with the condition of the floor.  I was worried that there might be some condensation and rust underneath the rubber floor mat, but there was very little.  The transmission plate looks great, as does the seat frame.
I took a few photos of the interior and seat frame and added them to the gallery.
Just a quick note on the site - up to this point, you will notice that some of the information on the engine, axle and transmission is primarily advertising in nature.  I hope there's some fun or possibly useful information in there, but I realize it's mostly advertising mumbo-jumbo.  Not to worry!  As we move forward with the restoration, I plan to add technical details to these sections as I get to them :-)  That way, both you and I have something to look forward to.
Well, I'd better get out to that garage now, or I won't be able to work on Cornelia this winter...
Permalink