the parts hauler
August 28th, 2009
Written by:
Susan
Published on August 28th, 2009 @ 02:17:06 pm , using 212 words, 705 views
This week we were on the hunt for a low-budget truck to haul parts for Cornelia. To sum up the search: One can only speculate what people have all done with an old truck...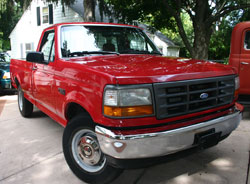 Praise be to the Internet. John spotted a 5-spd manual (not easy to find) 1996 red Ford F-250 XL pickup. This one looked solid in the photos. Up close it proved covered in mud inside and out, minor surface rust & dents. Solid frame. No frills. The 4.9 L inline 6 also seemed in good nick (as they say on Wheeler Dealers), and the odo read 130,000. The seller was an, "if it ain't broke, don't fix it" sort. John isn't happy unless he has something to tinker with, so on the whole the package felt just about right.
After the usual price wrangling, we brought the truck home and began to hose it down. Bit by bit the truck took on a nice red glow. Seemed grateful, almost.
While waxing we uncovered something unexpected. On the tailgate we noticed the ghost outline of 4" lettering. At just the right angle we could make out the words, "Ahern Fire Protection." We found a matching "131" on the front as well. Never owned a fire truck before. Now that's smokin'!
Thinking on a good name...
Permalink