Hope You Had a Happy Halloween
November 2nd, 2009
Written by:
John
Published on November 2nd, 2009 @ 01:57:14 pm , using 263 words, 916 views
Hope you had a fun Halloween - we sure did.  The boys, Susan and I have documented how crazy we are by carving auto manufacturer logo themed pumpkins this year :-)  You can likely guess which one is mine.  Susan did the wonderful Mustang - she is obviously the only one of us with any talent whatsoever...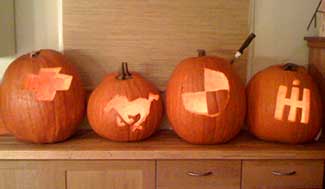 I'm also happy to add that we now have some great additions to the Friends of Cornelia gallery - a beautiful red 1954 International R-112 (yep, another one!) and an amazing 1916 Model K.  We would love to see more, so if you have a project going or just some good graphical information to add, by all means, sign up for a user account and toss up some photos!
In other news, I have been researching paint for Cornelia (nothing like getting ahead of yourself since we haven't even started tearing her down yet...).  Nonetheless, I have quite a bit of information including paint chips, color mix information, and documentation from International Harvester's Paint Committee (courtesy of the Wisconsin Historical Society) that I will be posting on a new "Paint" page that I'll add to the "Truck Facts" section.  Look for it over the next few days or so.
Susan and I are also working with Jim Hadfield of OldIHC.org, which I consider to be the premier source of information and the best user forums for old International truck owners on the Internet, to update the site.  I'm helping Jim a little with the coding and Susan is helping out with her artistic talents.  We're both glad to be of service.
Permalink