Cornelia is a Year Older...
June 11th, 2010
Written by:
John
Published on June 11th, 2010 @ 01:32:28 pm , using 198 words, 595 views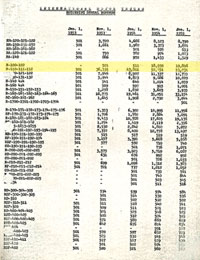 I just found out that Cornelia is in fact a 1953 R-112, NOT a 1954.  How?  From the chassis number and the International Harvester archives at the Wisconsin Historical Society.  It was common practice in the '50's for states to title vehicles based on the date of sale from the dealer lot, not the actual date of manufacture, so Cornelia has been titled as a 1954 International in Wisconsin for these past 56 years...
How can YOU tell how old your truck is?  Well I've put a new page together to make it simple for you :-)  You'll find it in the Truck Facts section at the bottom - "What Year is My Truck?"
In other news, the startup list is coming along nicely, but I've hit a small snag.  Turns out there are a million different Carter YF carburetors out there and I need to find out EXACTLY which one I have.  Somewhere beneath the grease and grime is a specific model number (I hope) that will confirm which one I have so that I can order the right rebuild kit.  I'm going to have to pull the carb off and do a partial cleaning to find it - hopefully this weekend...
Permalink