Which Carter YF?
June 13th, 2010
Written by:
John
Published on June 13th, 2010 @ 06:27:32 pm , using 184 words, 1679 views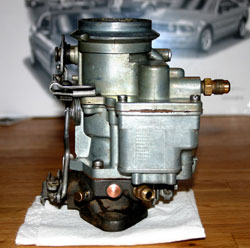 I removed the carburetor from Cornelia this weekend and managed to scrape off over 50 years of grime with a toothbrush and carb cleaner.  Susan was whitening her teeth today and when I got done with my tooth brush I told her I could blacken them again easily...
Anyway, I managed to find that elusive model number!  It turns out upon cleaning and close examination that the Carter YF on Cornelia is a model 735A, which now allows me to order that rebuild kit and get cracking on the rebuild itself.
If you click HERE, I have a photo showing exactly where to look on the carburetor to find the model number in case you are as clueless as I was ;-)
I'm going to try to order the rebuild kit from The Carburetor Shop out of Eldon, Missouri.  They have the most complete list of rebuild kits for the Carter carbs that I've come across.  I'll let you know how it goes...  Once the rebuild kit comes in, I'll set up a new page where you can follow along the rebuild of the carburetor itself.
Permalink