New Year's Resolution...
January 6th, 2011
Written by:
John
Published on January 6th, 2011 @ 12:03:50 pm , using 496 words, 649 views
Well, I promised an announcement and an explanation on what we're planning with Cornelia after the 1st, and here we go...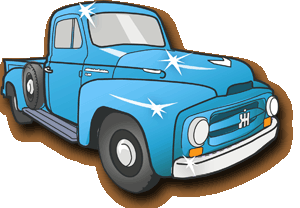 It all started with the sale of my beloved Mustang last summer to make ends meet and to help start the funding for work on Cornelia.  It started my thought process back then.  If we were to restore this truck to completely original, how would I be maintaining it and driving it?  The answer to that is that I would be driving it very little (they were meant to be low speed farm trucks after all) and it would be sitting a lot yet still requiring a lot of maintenance (brakes, oil leaks, etc.). So I asked myself the next question - can Susan and I afford to have a truck that basically sits around as a museum piece?  And the answer to that, is a resounding no.

Believe me, the purist in me wrestled with this for QUITE a while before coming up with the solution that I have, and that is to make Cornelia a restomod project instead.  Keep the body and interior as stock as possible yet replace the drive train, braking, suspension and electrical systems with modern components.  Will this be harder?  Yes.  Will this be more expensive?  Actually, yes.  But in the end, it will be less expensive in the long run because instead of saving up for another Mustang, we will make Cornelia a "driver" with an engine that has enough "umph" for fun without making it a "hot rod", so we will have a vehicle in the garage that actually gets driven and enjoyed - which negates the need for that new Mustang.  We're not related to Jay Leno after all, and can't afford to start a vehicle collection.  And in the end, isn't driving her the best way to honor Cornelia?

Some of you will see the pragmatism in this, some of you will be disappointed, some of you may even be shocked, but there you have it.  We all have our circumstances and our own tastes and routes to go on these vehicles.  We all have our own way of honoring this old iron, and Susan and I feel we will be doing Cornelia more of a favor by going this route than by restoring to original - a vehicle to be driven, enjoyed and loved.

During the restomod process, I will be carefully salvaging the original parts that I do not need, including that rebuilt engine we just retrieved from Indiana and will be offering them for sale to individuals that are restoring their trucks to original - I won't let any of those valuable parts go to waste if I don't have to.  Most of them will be sold via eBay, but I am considering setting up a sales page on this site as well.  We'll see.

So there you have it.  Whether you agree with the route we're taking or not, I hope you'll wish us luck and continue to follow along...
Permalink