A Truck for Matt
March 15th, 2011
Written by:
John
Published on March 15th, 2011 @ 01:40:46 pm , using 287 words, 995 views
I get a LOT of email through this site - and it's great.  Questions about oil filters, letters about fellow enthusiasts and their truck stories... I love reading each end every one of them and I love helping out when I can too.  Every once in a while you get a letter that is something truly special, however, and I wanted to share this one from Mark (reprinted word for word) about his son Matt and his "new" truck: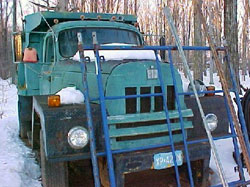 I've been driving Petes, KW, Macks etc. for my Boss who owns a construction co.  But I just bought my handicapped kid an old 1960 IH Single axle dumptruck, I found laying in a field. Even if my kid Matthew is 26 yrs old, he only has mind of bout a 7 yr old.

You would think this kid hit the lottery "his own real dump truck"  What your gona see as junk...it's pure Gold in this kids eyes, even though he knows he cant drive it,

But, soon as I get the $700 left owed on it? Then I'll just pray I get it restored before Matt passes on. He has many other health issues. He's a Truck boy since the day he was born! NASCAR second lol. And Im a proud Dad sending you this pic to post. Hope none make fun of it, but I wont let the kid see anything bad. What a blessing for his mother and I, to see the smiles and joy, we've been seeing ever since we showed t to him out in that field!

Thank you for letting us share this wonderful time in our lives,

God Bless,

Mark
Mark and Matt - I don't see junk here at all - I too see pure gold.
Permalink