I'm Back
November 29th, 2011
Written by:
John
Published on November 29th, 2011 @ 11:08:32 am , using 425 words, 1693 views
Sorry for the prolonged absence.  The last few months have been a tad rough here.  We were just making some great progress on the garage in July and August - we had an electrical contractor come in to help me (I wanted to speed things up because my eldest son, Samuel was coming home to live with Susan and I while he attends school) and the contractor had roughed out all of my electrical plans.  We also installed a fence, a walkway to the garage from the deck/house, and we managed to do all of this even though I was still dealing with pain on a daily basis.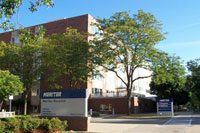 All of a sudden, on September 16, the painkillers no longer helped with the pain.  I knew something was drastically wrong and I asked Susan to take me in to the E.R.  They confirmed that I had a bad appendix and said they could remove it laparoscopically.  No big deal.  I would be out in a day. Things took a serious downturn from there.  The "bad" appendix had actually already burst, so after the laporoscopic procedure, they had to open everything up for surgery.  I was OK for a very short while after that, except the healing process didn't seem to be going right... I developed some severe complications, they had to go in again, and for a week I was in an induced coma.  Things were not looking good for a while, and believe it or not, I think the whole process was a lot harder on my Susan than it was on me.  Somehow I lost a month.
I'm home now and slowly recovering.  I lost a lot of weight (a good thing, but I wouldn't write a book about it!) and can't get around very well yet. It's a struggle just to walk, and it's going to take the entire winter, a lot of work and a lot of exercise just to get my movement and conditioning back.
I apologize if I've missed any of your notes, but I think I've caught up with everyone at this point.  Needless to say, work on Cornelia is likely put off until Spring.  Nonetheless, check back in because I will still post news and stories about IHC trucks and events as I come across them, and I'm also back at work at OldIHC (a big thank you to Jim Hadfield for coming out of retirement and holding the fort at OldIHC in my absence!). ~ John
Permalink