Truck Facts
The International Harvester R-Series Rear Axle
(Source: International Light Duty Trucks, International Harvester Co., Publication CR-485-C)
Proved long-life rear axle
Hypoid gearing, heavier housing, wider wheel bearing centers, improved axle ratios, and straddle-mounted pinions are some of the reasons why new International Truck rear axles offer more miles of trouble-free performance.
These improvements, made possible by engineering and manufacturing refinements, provide greater load-carrying capacity per pound of axle weight and proper axle ratios for operations under most severe conditions. They provide greater safety, greater dependability, greater assurance of longer life.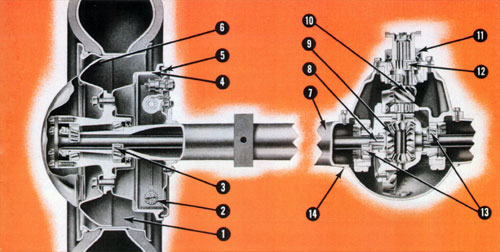 Wide-base rims increase road stability, prolong tire life, make tire servicing easier.
Powerful 4-wbeel hydraulic brakes. Self-centering, self-energizing, two-shoe type designed for maximum braking efficiency. Special brake design permits quick, easy adjustment.
Large-capacity, tapered-roller bearings, wide-spaced for better stability and load support.
Large-size brake drum easily removed, easily replaced without disturbing other brake parts. Pressed steel back fused to cast-iron braking surface to add strength, cut down weight.
Self-cleaning slinger and labyrinth-type brake drum seal keep out dirt, mud and moisture; lengthen life of brake lining and drums. Rib reinforces drum, throws off heat.
Heavy-duty, pressed-steel disc-type wheel.
One-piece, tubular, banjo-type housing.
Large-diameter, 16-spline, heat-treated, chrome-nickel-molybdenum, shot-peened steel axle shafts with integral flange. (R-120 and R-130 Series models have full-floating axles; R-110 Series models, semi-floating.)
Long-lasting differential gears distribute balanced power to axle shaft. Replaceable, hardened thrust washers eliminate differential case wear.
Accurately matched hypoid ring gear and pinion.
Efficient oil seal and dust shield.
Straddle-mounted pinion, three heavy-duty roller bearings for firm alignment with ring gear.
Large-capacity roller bearings for long life.
Heavy housing cover welded on. Welding eliminates gasket leaks, provides rigid differential bearing support, and increases sturdiness of housing.
Single Reduction Hypoid Axle (R-1060)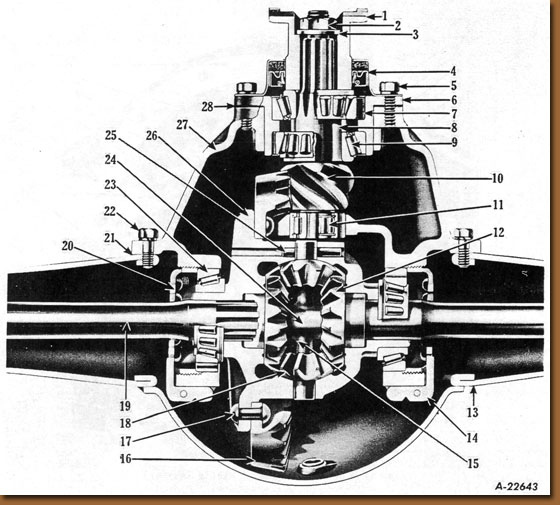 | | |
| --- | --- |
| 1. Companion flange. | 15. Differential cross pin. |
| 2. Propeller flange mounting nut. | 16. Hypoid ring gear. |
| 3. Propeller flange mounting nut washer. | 17. Hypoid ring gear rivet. |
| 4. Pinion shaft bearing oil seal. | 18. Differential pinion. |
| 5. Pinion bearing cage to carrier capscrew. | 19. Axle shaft. |
| 6. Pinion bearing cage. | 20. Differential bearing adjuster. |
| 7. Pinion bearing, outer | 21. Differential carrier to housing gasket. |
| 8. Pinion bearing spacer. | 22. Differential carrier to housing capscrew. |
| 9. Pinion bearing, inner. | 23. Differential roller bearing. |
| 10. Hypoid pinion gear (straddle mounting). | 24. Differential center block. |
| 11. Pinion bearing. | 25. Differential cross pin retaining pin. |
| 12. Differential side gear. | 26. Differential case. |
| 13. Axle housing. | 27. Differential carrier housing. |
| 14. Differential bearing adjuster lock. | 28. Pinion bearing cage shim. |