Truck Facts
What Year is My Truck?
The year of your truck on your title may not actually be the year of your truck. Back in the '50's it was common practice to not establish the year for title purposes until the vehicle was actually sold off the dealer's lot. This was the case for Cornelia (which is still titled as a 1954 International in Wisconsin) and in many other states.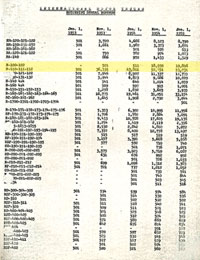 So what year is your truck then? You can determine the year from your chassis number, which on the R-Series is found in two places - the easy place is on your data plate, but you should confirm this by checking your frame as well, where you will find it stamped into the left front frame rail, behind the bumper. You may have to scrape a lot of rust off to see it, but it's there. In Cornelia's case, I found it immediately above the front spring shackle.
Once you determine your chassis number, you can then compare it to the official International Harvester production records to determine when your truck was actually manufactured. For the convenience of the R-Series folks, I have a copy of the R-Series page to the left. Just click on the image to view the full size document. For those looking for serial numbers from other years, the document you want to view is "Serial Number List - Motor Trucks - 1928-1966" found at the Wisconsin Historical Society.
You'll also see that we've highlighted the most popular R-Series models for convenience.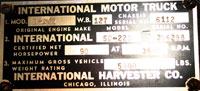 As an example, Cornelia's chassis number is 6112. If you look up 6112 on the chart, you'll see that Cornelia was manufactured between January and November of 1953. If you extrapolate a little, it appears that Cornelia would likely have been manufactured between February and March of 1953 (the last part is just having a little fun since production schedules likely varied too much to pinpoint the date of manufacture to a specific month).